20 Most Promising Media and Entertainment solution providers 2018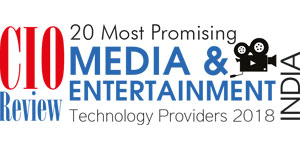 Media and Entertainment organizations were one of the sectors to be first disrupted by the introduction of digital tools. Numerous media companies took the high ground by applying powerful digital tools like Code Halo and etc to target and understand consumers better. A potential revenue increase on their websites/social media/ campaigns/banners and etc posed an array of insights thereby, fuelling the need to recognize, analyze and imply media house solution providers. Content Management, personalizing contents and enabling multi-platform analytics using big data are just few of the features that are on the race to catch the limited attention of customers' time, advocacy and money. Increased pressure of competition, engaging short-lived attention of customers across channels with personalized experiences and promote brands, disruption in media and entertainment industry is witnessing a major shift. Creating ultimate viewers experience requires media and entertainment industry to rethink the ways of engaging with customers, learning new ways of working and henceforth, embracing digital drivers.
Digital devices and solutions help change the speed and nature of the change faced by this sector, driven by both consumer technology and behavior. In this change, some have managed the disruption well and some are on the verge of doing so and engineer their way to meet the new demand and expectations. The business circle, years of experience and expert's views are some of the other pivotal aspects on which the decisions can be made. Considering these and observing the trends as well, CIOReview India has come up with a list of "20 Most Promising Media and Entertainment solution providers 2018". A distinguished panel of CEOs, CIOs, industry analysts and the CIOReview India editorial team has closely scrutinized these companies addressing the above features .We believe that the listing given by us will bring in a better clarity thereby enabling your businesses to take decisions that will sustain the test of time.
We present to you CIOTechOutlook 20 Most Promising Media and Entertainment solution providers 2018.
Top Media and Entertainment solution providers
| | |
| --- | --- |
| Ad2pro Media Solutions | Competent in Graphic design, display advertising, campaign management, app development, digital ad, analytics and website design |
| Adflair Media Solutions | Renders digital marketing strategy, website design, search engine optimization, pay per click, social media marketing, email marketing and digital marketing services |
| Chrome DM | Enables broadcast & media solutions, brand audits & analytics and brand research & insights services |
| Commedia Solutions | Undertakes complete solution design & deployment which include supply, installation, testing and commissioning in the wireless, wireline or digital media solutions space |
| Contentsphere | Builds Products Experience Platforms combining functionalities of PIM, MDM, DAM, MCM (Marketing Content Management) |
| Ebiz Media Solution | Facilitates content writing, mobile SEO, e-commerce website, domain registration, domain hosting, graphic design, logo design and SEO consulting services |
| id8 Media Solutions | Provides solutions in marketing, social media, graphic & visual communication, films & television and internal communication management |
| Impetus Media LLP | Provides services around Social Media Marketing, SEO, SEM, website development, Google Adwords, creative designing, and digital marketing |
| iMZ Media Solutions | Holds expertise in online marketing solutions with paid search, SEO, banner & display ads, social media marketing, affiliate marketing and video advertising |
| Karthavya Technologies | Specialties revolve around newsroom automation, broadcast infrastructure, media management, and media archival |
| Kinetic Media Solutions | A marketing and advertising solution provider offering integration of strategy, technology and creative implementation of client's communication needs |
| LOCAD | Avails comprehensive products & solutions for Location Based Advertising and OOH media industry. |
| Meltwater | Expertise lies in online media intelligence, social media marketing, SaaS, AI, media monitoring, social engagement and PR & Influencers |
| Oi Media | Delivers platform for business data and off-the-reck professional templates to a full suite of analytical tools to the OOH industry |
| PrachaR Media Solutions | Specializes in consulting internal/external communications including PR, marketing communications, content generation and planning |
| Quick Media Solution | Offers web designing, web development and media solutions with content writing, digital marketing, printing & graphics and advertising |
| ReliableSoft Technologies | Builds platform for digital cable TV subscribers to manage cable TV set top box connections, raise service requests etc |
| Technomedia Solutions | An end-to-end service provider in radio & television media industry including conceptualized installation, integration and commissioning |
| Theorem | Delivers a full suite of advisory services, operational and technical solutions across media industry |
| ValueFirst Digital Media | Service portfolio includes social media marketing, mobile/performance marketing, digital engagement, audience outreach program, and data analytics & insights |